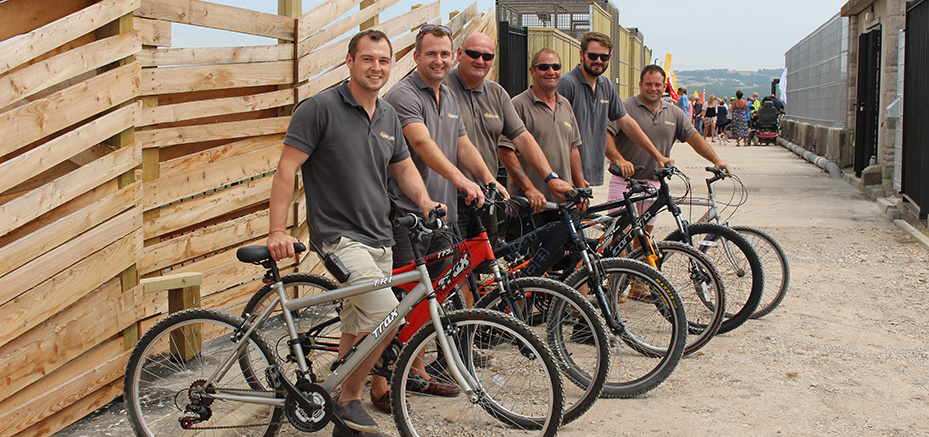 A new footpath and cycle route linking Brean to Weston-super-Mare is now officially open (July, 2017).
The 'Brean Down Way' provides easy access to Weston for walkers and cyclists, via a sluice bridge over the River Axe.
The project by Greenways & Cycleroutes Ltd has provided a fantastic, traffic-free walking and cycling route. It was declared officially open by the Lord Lieutenant of Somerset, Annie Maw, on Friday 7th July 2017.
The route from Brean Village Hall to Weston Grand Pier is 5 miles via the Brean Down Way. This cuts out an additional 3 miles – the circuitous driving route to Weston – as well as providing a safer alternative to the narrow and heavily-trafficked Weston Road.
From the Weston junction opposite Brean Village Hall, there is a new kerbed pathway running parallel to Weston Road. The cycleway then leads across farmland and over the sluice, entering Uphill where you can continue along to Weston seafront.
The new pathway is a welcome link between the two seaside resorts and a novel attraction in itself for our visitors. The cycle path route is mainly level, apart from a small rise at Walborough, and its 5 mile length makes it accessible for families and novice cyclists alike.
For those wanting a longer expedition of 8 miles, the extended route is from Brean Down Fort – travelling down the sloped pathway of the cliff, along Brean beach and joining the new cycleway at the Weston Road junction – leading onto finish at Weston Grand Pier.
The new cycle path has been combined with the England Coast Path project. This existing 58 mile stretch from Minehead to Brean Down is a hiker's paradise with beautiful views of the diverse Somerset shoreline. An extension of the coastal path to Weston-super-Mare only enhances its appeal and accessibility.
There we have it - if you're holidaying with us, why not bring your bike or walking shoes and get a sluice of the action!?
View All Articles
---
Date published: Mon 17th Jul 2017