WiFi Internet Connection Availability
WiFi Access
Our WiFi provider is LPIS (Leisure Park Internet Solutions).
Free Hot Spots
Please enjoy access to FREE WiFi hotspots inside and outside The Beachcomber and Play Barn.
Touring and Camping Fields
WiFi is available in most touring & camping areas of the park, please see Pay As You Go prices in the table.
All WiFi services are provided by external supplier, LPIS. LPIS cannot guarantee WiFi signal or speed in all areas of the park. Please direct any WiFi queries straight to LPlS on 01423 295001 or email support@lpis-uk.com
Seasonal Tourers and Statics
Seasonal tourers and static owners can purchase a Direct To Van (DTV) internet solution from LPIS. This provides you with the best WiFi signal for use on unlimited devices through a secure network. A discreet receiver is fitted to your caravan that is linked, through cable, to the latest Ubiquity air cube router, situated inside your caravan.
For prices or to book a Direct To Van installation, please contact LPIS on 01423 295001.
Pay As You Go WiFi is not available in seasonal and static areas.
Static Caravan Hire
Complimentary superfast WiFi is available in all of our static caravans for hire.
All WiFi services are provided by external supplier, LPIS (Leisure Park Internet Solutions). Please direct any WiFi queries straight to LPlS on 01423 295001 or email support@lpis-uk.com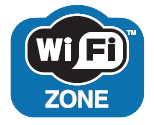 Prices
| Duration | Single Device | Multi Device |
| --- | --- | --- |
| 1 Day | £6.00 | £10.00 |
| 2 Days | £10.00 | £15.00 |
| 3 Days | £12.00 | £18.00 |
| 4 Days | £14.00 | £21.00 |
| 7 Days | £18.00 | £27.00 |
| 14 Days | £25.00 | £38.00 |
| 28 Days | £30.00 | £45.00 |