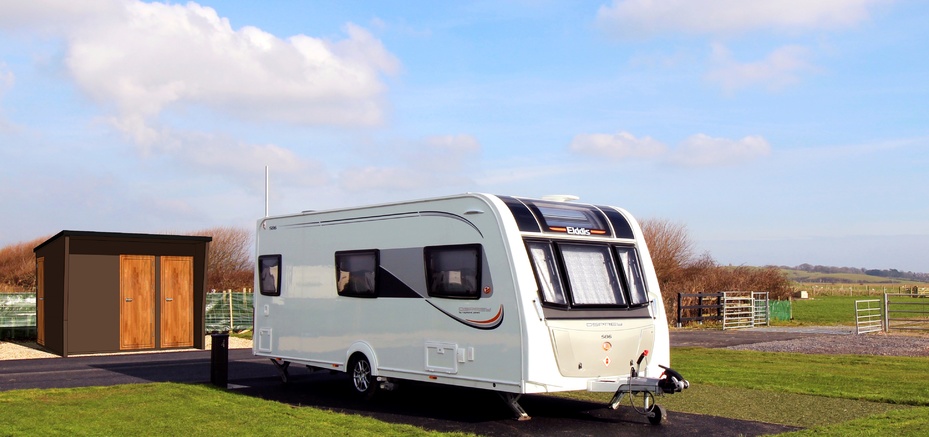 Our En-Suite Super Pitches are proving to be very popular!
Here's our remaining en-suite availability for the rest of 2019 - you can choose ANY 3 NIGHTS MINIMUM between these dates.
E2:
13th - 19th October
E3:
29th September - 4th October
8th - 17th October
21st - 25th October
*Dates are subject to change depending on live availability / new bookings and cancellations.
Please call us on 01278 751227 to check dates and book!
(En-Suite Pitches cannot be booked online)
Information
We have three En-Suite Super Pitches in Field 5, which are suitable for caravans, motorhomes or tents. These pitches each have their own 'pod' consisting of a private toilet, shower and storage shed.
Our spacious En-Suite Pitches have a tarmac area (for the caravan, motorhome and/or car) and rubber matting area (for the tent or awning).
They are fully-serviced Super Pitches with a fresh water tap, waste water drain connection, car parking space, storm drain and of course electric hook-up.
Strictly one unit per pitch e.g. caravan and awning OR motorhome and awning OR tent. Please note there is a 3 night minimum stay.
To book, please call us on 01278 751227 (booking is not available online).
Click here for more information and prices >>
We can also take bookings a year in advance for our En-Suite Super Pitches, call us to book for 2020!
View All Articles
---
Date published: Tue 24th Sep 2019