Winter Storage and Drain Down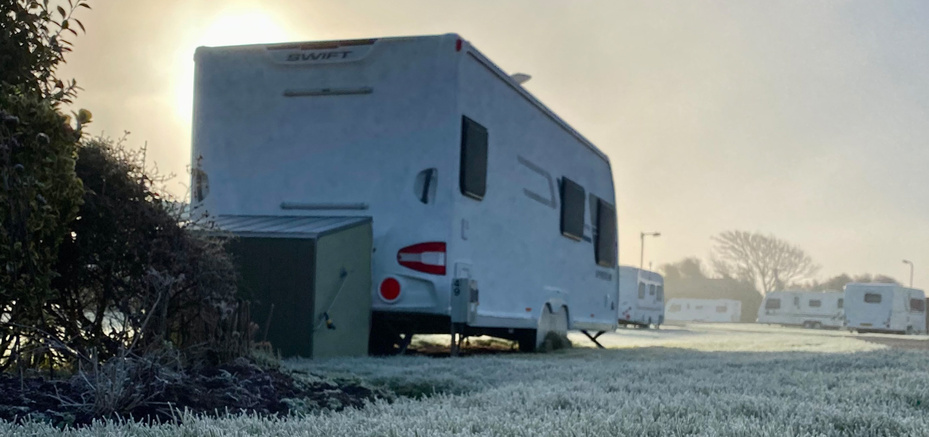 As the 2023 season is drawing to a close, it's time to start thinking about the winter period ahead.
SEASONAL TOURERS - Winter Storage £115
If you're storing your caravan with us for the winter, please book and pay for storage at Reception before our season ends on Sunday 29th October. If you are taking your caravan away for the winter period, please inform Reception and confirm your pitch for 2024.
We will store your caravan on its pitch. Please ensure you pack your caravan away as usual and put all items including bike caves inside the caravan. Nothing should be left out (including water and waste barrels) or stored underneath as it may be necessary to temporarily move some caravans to one side for groundwork.
Caravan legs should be left down for the winter. Hitch locks and wheel clamps must be left in place for insurance cover, but please make sure spare keys are left with Reception for emergencies.
It is essential to drain down your water system and disconnect the mains electric, gas and leisure battery for safety and insurance criteria. We ask you to keep the locks, hitch, tyres, brakes and stabilisers lubricated and maintained in good working order. Brean Caravan Shop offer a drain down service to owners of seasonal tourers for £60 – please call them on 01278 751599 to book.
En-suite customers are also asked to disconnect their water hook-up, and ensure all items are inside their caravan or storage room. Warren Farm will drain down your 'pod' for you so please ensure we can freely access the bathroom area.
STATIC OWNERS - Drain Down £75
Please book your drain down at Reception, if required, before our season ends on Sunday 29th October. Make sure underneath the caravan is clear of items, and that we can easily access the water stop tap under the caravan. We will also need a spare set of keys. We will disconnect the water and drain all pipework, then re-connect it before the start of our 2024 season. Once it is re-connected in March, you may have to turn your stop tap back on when you arrive for your first stay. The drain down charge (if booked) will be added to your winter electric bill. Please remember we are now 'paperless' and sending invoices via email – look out for it in your inbox in November!
BIKE COMPOUNDS
Please ensure you take all bicycles home with you at the end of the season. Any left in the bike compounds will be removed.
2024 SITE FEES
Site fees for 2024 will be set in February, as usual. Please remember we are now 'paperless' and sending invoices via email – look out for it in your inbox in February!
You are welcome to come down to check on your caravan over the winter but are not permitted to stay overnight. The water and electric may be turned off during our closed period. For security reasons, access will be restricted on to the park so customers will have to park at the entrances and walk to their caravan. Please do not block any gates or barriers.
Many thanks for all the support you have given us this year. We look forward to seeing you again next season!
View All Articles
---
Date published: Fri 29th Sep 2023